Image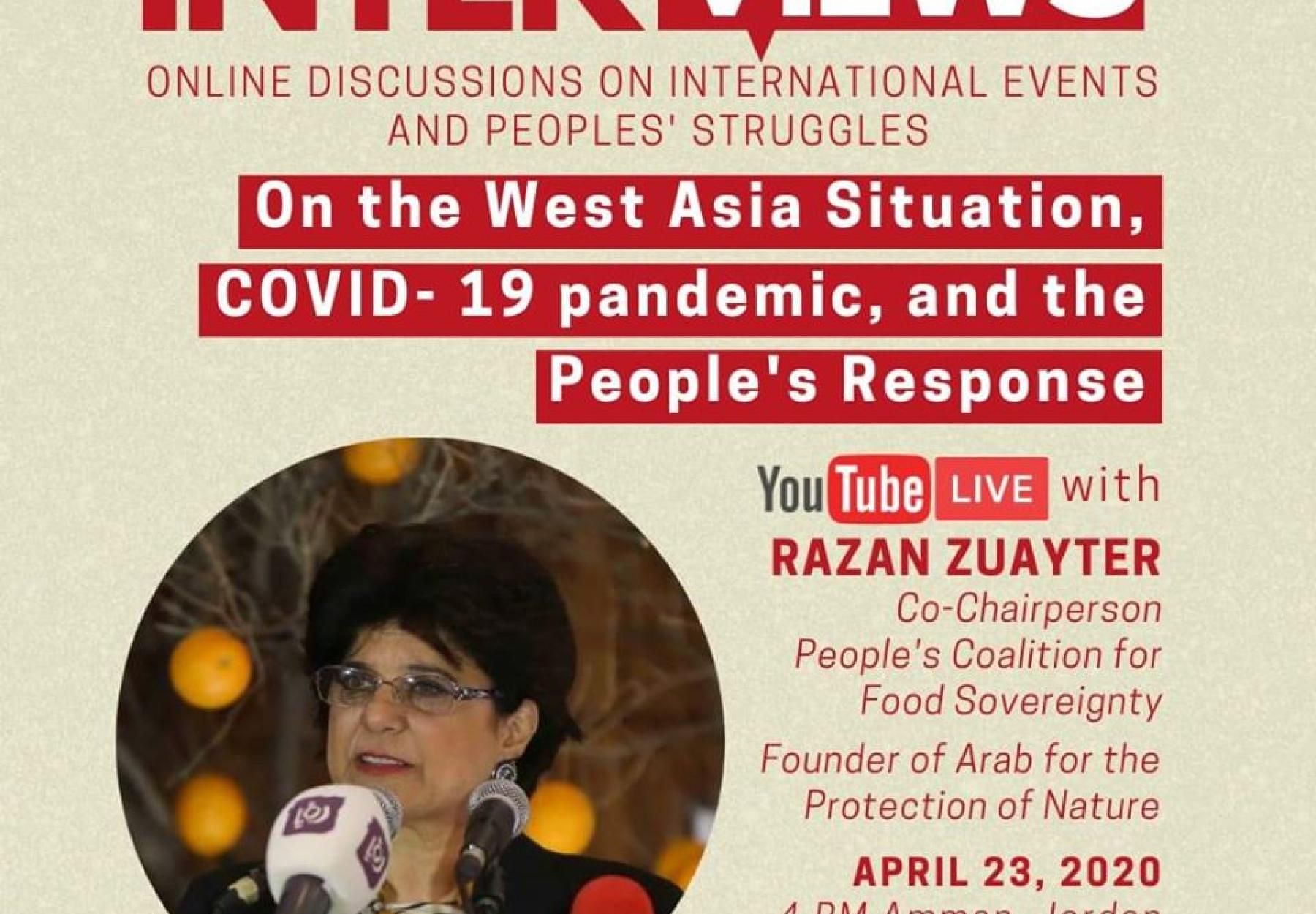 Razan Zuayter, the General Coordinator of the Arab Group for the Protection of Nature and the President of the Arab Network for Food Sovereignty, participated in a webinar on Thursday, April 23, 2020, after being invited by the International League of Peoples' Struggle (ILPS) to speak on the challenges the coronavirus crisis poses for the Arab world.
Zuayter described what she referred to as "corona's volcano," which has revealed the deterioration and absence of values in many countries, particularly Western capitalist countries. She pointed to the practice of striving for so-called "herd immunity", a policy that some European countries tried to apply in an inhumane way through prioritizing the welfare of the economy over human lives, neglecting the elderly and their right to access health care. Zuayter reminded participants of the importance of this segment of society to Arabs who revere their elders as people of experience and wisdom and a source of blessing, happiness and hope.
In the same context, Zuayter said that the coronavirus crisis has also exposed major imbalances in the Arab world, especially within the framework of labor rights,  where a wide sector of "daily workers" and small-scale farmers find themselves without work or social security. She stressed to keep the struggles of these farmers in mind and to work to help them. 
Zuayter also spoke about regions experiencing conflicts and crises (Yemen, Syria, Iraq and Iran), pointing out that the coronavirus has exacerbated these crises. She reminded the participants, who hailed from various Arab and Western countries, that Yemen, for example, is facing a higher rate of military air strikes which have led to the estimated destruction of half of the country's health institutions.
As a representative of popular social movements and civil society organizations working for agricultural rights and the empowerment of farmers, Zuayter raised the nine demands that the People's Coalition for Food Sovereignty had endorsed at its meeting the week prior. She stated that the enactment of slogans such as "sovereignty over food and food security" is not the idealistic goal many governments took it to be before the pandemic, but is urgently necessary to sustain human life in light of the coronavirus crisis.