الصورة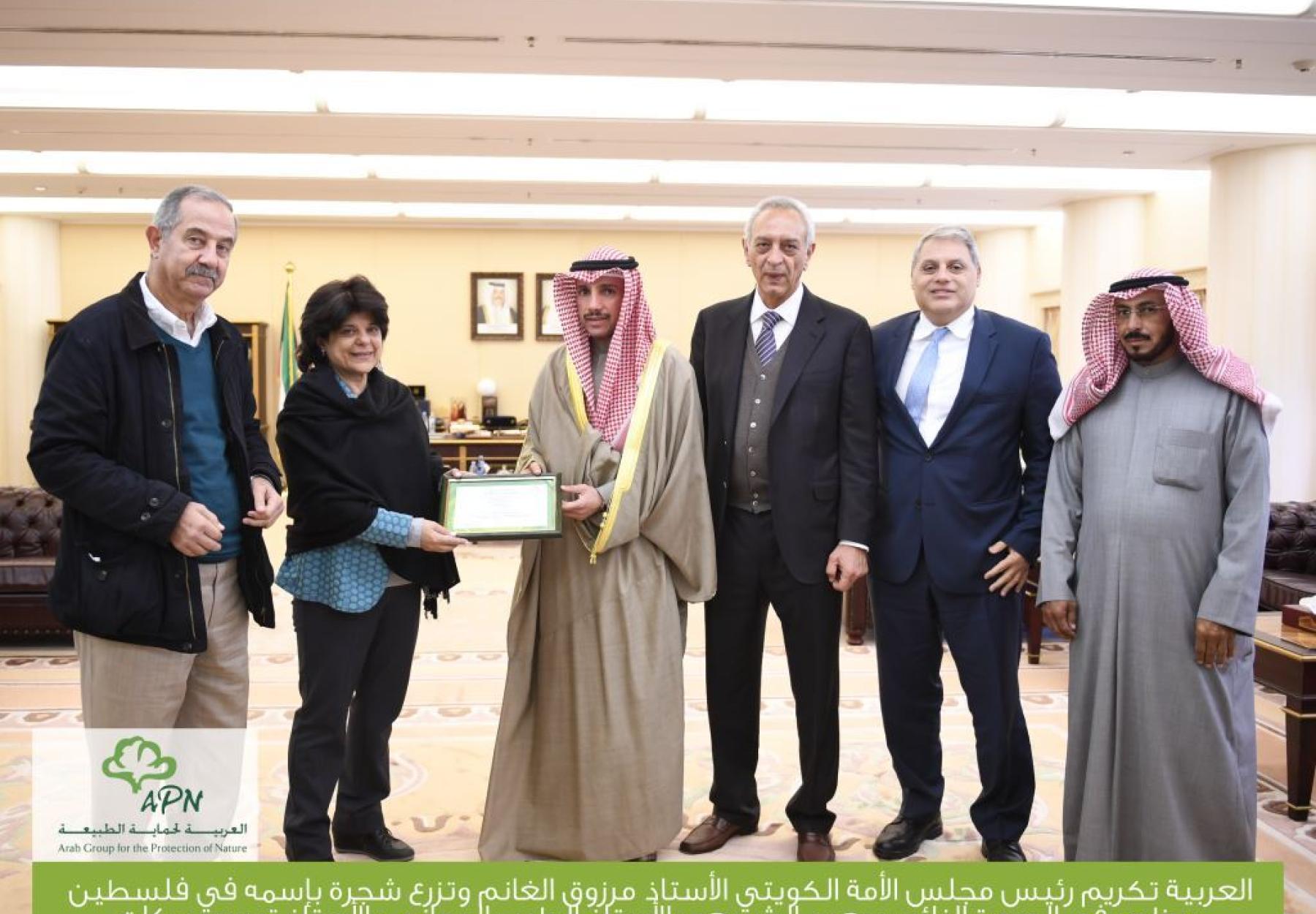 APN has received support for its work and commendation of its achievements from various Kuwaiti bodies, societies, institutions and public figures during a visit to the country by co-founders Mrs. Razan Zuaiter and Mr. Hassan Al-Jaajaa.
The visit which took place on January 19th, 2019 was made upon invitation from the friends of APN in the country.The delegation held fruitful meetings with political, social, cultural and professional bodies and with public figures from Kuwait, Jordan and Palestine. A major highlight of the visit was a meeting with the Kuwaiti Parliament Speaker Mr. Marzouk Al-Ghanem whom APN has sought to honour with a tree planted in a Palestinian land carrying his name, in respect of his outstanding position at a recent meeting of the Inter-Parliamentary Union Conference held in the Russian city of St. Petersburg, in support of the Palestinian cause.
The Kuwaiti Date Palm Friends Society headed by Dr. Adel Dashti honoured APN's delegation at a joint event held at the premises of the Women's Socio-Cultural Society where a tree was planted. Other activities included meetings and talks at the Arab Development Fund, Al-Yasra Food Company, Kuwait Institute for Scientific Research, The Waqf (endowment) Secretariat and the Kuwaiti Zakat House.
The delegation also met with the Kuwaiti Red Crescent Society and Loyac Organization for Youth Development.Another highlight of the visit was a meeting with a committee of 'Kuwaitis in support of Jerusalem' at Al-Mulla Diwan.
Ms. Lulwa Al-Mulla speaking at the start of the meeting honored Zuaiter with a traditional Kuwaiti dress and commended her efforts to support the steadfastness of the Palestinian people through green resistance.The delegation's visit gained coverage in the Kuwaiti newspapers including Al-Rai, Al-Anba' and Kuwait News. 
Al-Qabas newspaper published an interview with Zuaiter and Al-Jaajaa on its pages covering 18 years of APN's achievements in addition to ANFS mission and objectives.An honorary dinner hosted by Mr. Altayeb Ahmad Sudki Al-Dajani was held to the delegation attended by public Kuwaiti, Jordanian and Palestinian figures.