الصورة
APN General Manager Mariam Al Jaajaa gave the civil society speech at the opening ceremony of the 44th session of the Committee on World Food Security (CFS), which was held on the 9-13th of October 2017 in Rome (read the speech here http://www.csm4cfs.org/csm-opening-statements-famines-crisis/).
During a series of meetings, members of the Civil Society Mechanism (CSM) contributed to the preparation of the speech, which was presented on 9/10/2017. Al Jaajaa spoke about famines and the absence of food security in protracted crises and wars, and asserted that famines do not occur without prior warning, but rather take years to form, and as such early political and humanitarian intervention is critical to prevent and alleviate food insecurity. She affirmed that it is impossible to ameliorate food crises without addressing their root causes; such that, as stated by the State of Food Insecurity Report of 2017, approximately 60 percent of the world's food insecure lives in areas that suffer from war. Al Jaajaa stated that this is a clear result of the numerous and recurring violations of human rights, including using food as a weapon for collective punishment, mainly by destroying agriculture sectors, blocking trade and civilian movements, occupation and resource theft.  She expressed the unfortunate reality that in most cases, those complicit are absolved of their crimes.
Al Jaajaa also stressed the importance of forming national mechanisms and platforms that aim to find sustainable and just political solutions for conflicts, without foreign interference, bringing to attention Yemen, where 60 percent of the population suffers from hunger, and where a devastating outbreak of cholera has spread to all its governorates. She called on an immediate and non-conditional halt to the war, lifting the siege on ports and airports, and on allowing the delivery of humanitarian aid, stating that Sustainable Development Goals can never be realized without political will to end wars and conflict.
Mariam Al Jaajaa was also invited to speak at a side event on "Women's Roles and Rights in Situations of Food Crises, Famines and Conflict" along with Hilal Elver, the Special Rapporteur on the right to food, Azra Saeed from Pakistan, and two women from Argentina and Ghana (read the speech here http://apnature.org/en/node/1879). In her speech, she explained that women are disproportionately at risk of food insecurity in times of conflict, such that biologically, they have higher nutritional needs. This is particularly true for pregnant and lactating women, whereby female malnutrition has serious consequences on child development. In addition, the high rates of deaths and arrests during wars and occupation increases the number of female-headed households that are generally more vulnerable to food insecurity. Al Jaajaa stressed that women are often at the forefront of responding to food insecurity in times of war through their contribution to agricultural and food production, and managing household consumption. As such, she called for the strengthening of women unions to bring them closer to decision making processes, whereby women and their rights cannot be placed in a separate silo, and women must be given the opportunity to voice their opinions on political, economic, and social systems that affect their families.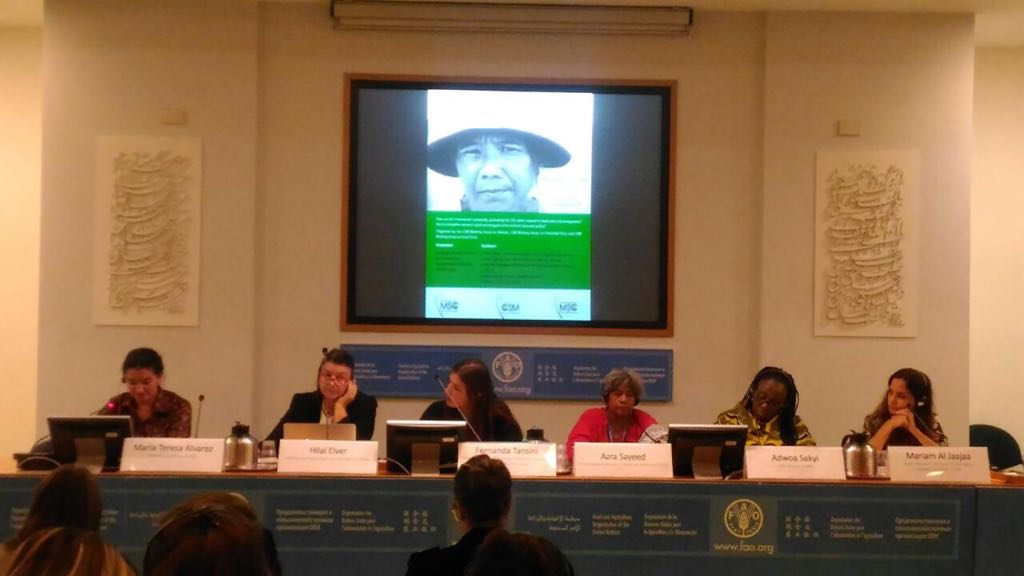 The CFS is the foremost inclusive intergovernmental and international political platform on food security and nutrition, where civil society organizations participate in these political negotiations via the Civil Society Mechanism. 
Watch Mariam Al Jaajaa's speech at the CFS opening ceremony here: https://youtu.be/X1rAqfnl3ao