الصورة
The Global Campaign to Return to Palestine has honored APN with a medal in recognition of its voluntary assistance and support to Palestine.
APN President Razan Zuayter received the medal at a special ceremony held in Beirut on Dec.9th, 2015, on the sidelines of the 3rd International Convention for the Solidarity with Palestine.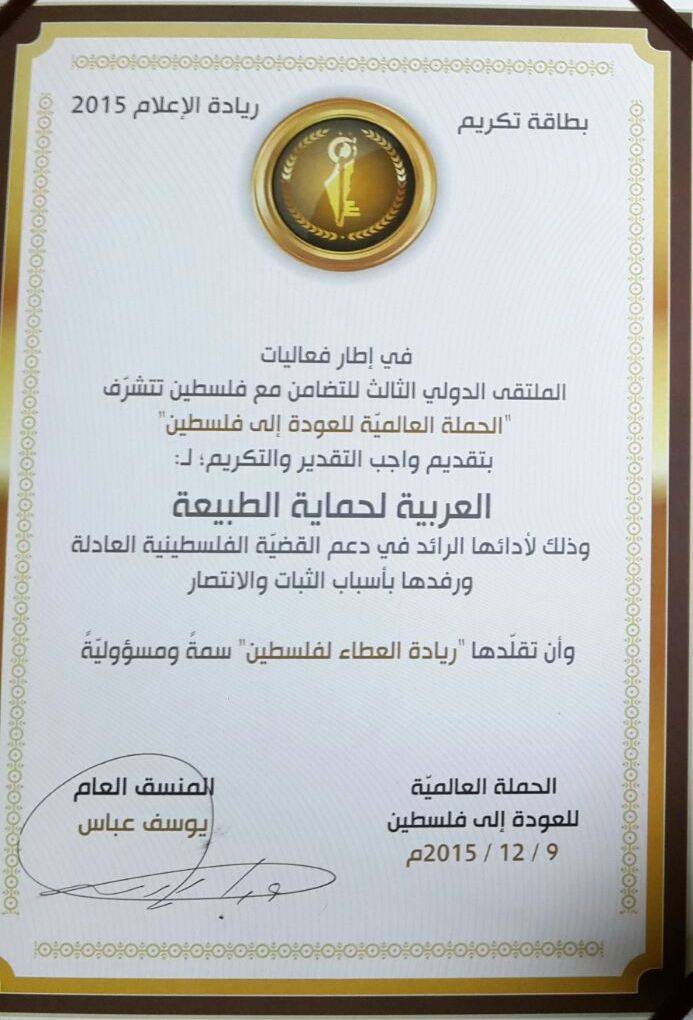 A number of Arab and foreign figures also received acclaim for their work in support of the Palestinian cause. Three hundred activists from 60 countries took part in the gathering. Dr. Pissias Evangelos, a Greek professor who organized a sea flotilla to Palestine to end the blockade imposed by Israel on Gaza,  received acclaim along with Al-Mayadeen TV channel, a young Palestinian girl who resisted attempts by an Israeli soldier to arrest her mother, two girls from Gaza wounded in Israeli air raids,  Shahid Falastine (Martyr of Palestine) Institution, an Argentinean football player who chose to hold Palestinian nationality in order to play with the Palestinian football team and an Indonesian doctor who made a donation to build a hospital in Gaza.