Image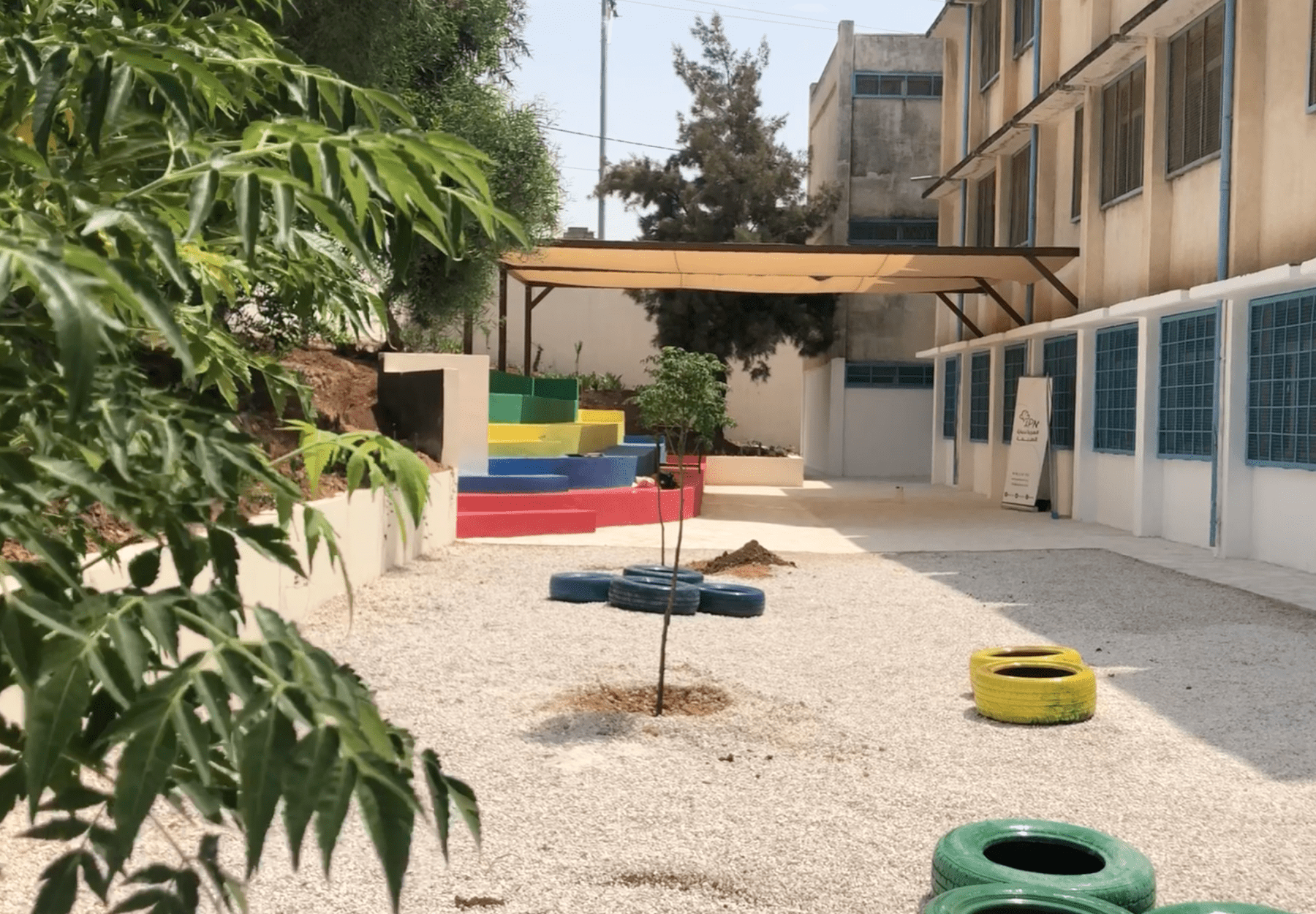 On Monday, June 27, 2020, APN had an opening ceremony for the 'Garden of Colours' at the first UNRWA school for girls in Gaza Refugee Camp, in the presence of Mr Muhammad Adar, Director of UNRWA in Jordan, and supporters, partners, and media professionals.
An area of 888 square meters has been transformed from a neglected and closed-off space into an oasis with interactive elements, to include a stadium for girls in the only school for girls in the camp. The garden came about from a collaboration between APN and Sanabel Landscape Design & Services. The garden was made possible because of the support of the Bank of Jordan, e.construct, National Paints, Rami Al Nazer, and Hassan Al Jaajaa. Attendees of the opening ceremony looked at the facilities of the garden that took two years to complete. The garden allows breathing space for teachers and staff and improves their psychological and mental states. The garden creates a beautiful, quiet atmosphere that can boost academic performance.
APN Director Mariam Al Jaajaa said that as a civil society organization, APN is responsible for creating and promoting clean environments. She said that "we sought to provide an interactive and environmentally sustainable space that serves students in different fields (science, art, environment, agriculture ), especially as the school lacks green space."
Al Jaajaa said that the stadium in the garden will help solve the dilemma of overcrowding in the classrooms, where 3000 girls attend classes in two shifts.
Mr Muhammad Adar, Director of UNRWA in Jordan, expressed his gratitude, saying "On behalf of UNRWA, I would like to express my appreciation for this great initiative, which has created natural spaces for more than 3,000 students so that they can spend time, learn actively, and improve their mental health. Our students at the UNRWA Jerash Camp School for girls will receive this new school year enthusiastically with this new green area and stadium."
Zeena Al Jaajaa, who is Head of Design at Sanabel, said that the garden was designed using a participatory approach. A series of discussions were held with students and teachers to find out what their preferences were and what problems they could identify with the current set up. Al Jaaajaa points out that gardens are a right for people regardless of the availability or scarcity of resources.
She explained that plants were selected based on several factors, such as their ability to create shade, tolerate drought, and reuse surface water, and on being low maintenance. She also said that the trees reflect our local culture because many of them are medicinal. There are also fruitful trees, she said, to raise awareness about the importance of enhancing food security.
Al Jaajaa added that garden will inspire students when they are learning about agriculture as part of the school curriculum.
31,000 registered refugees live in Gaza camp, which has an area of about one square kilometre. Residents of the camp live in difficult economic, social, health, and educational conditions, and 64% of them live below the poverty line, according to the Academy of Refugee Studies.
You can contribute and support our agricultural projects in Jordan by visiting our donation page. Click here.