Image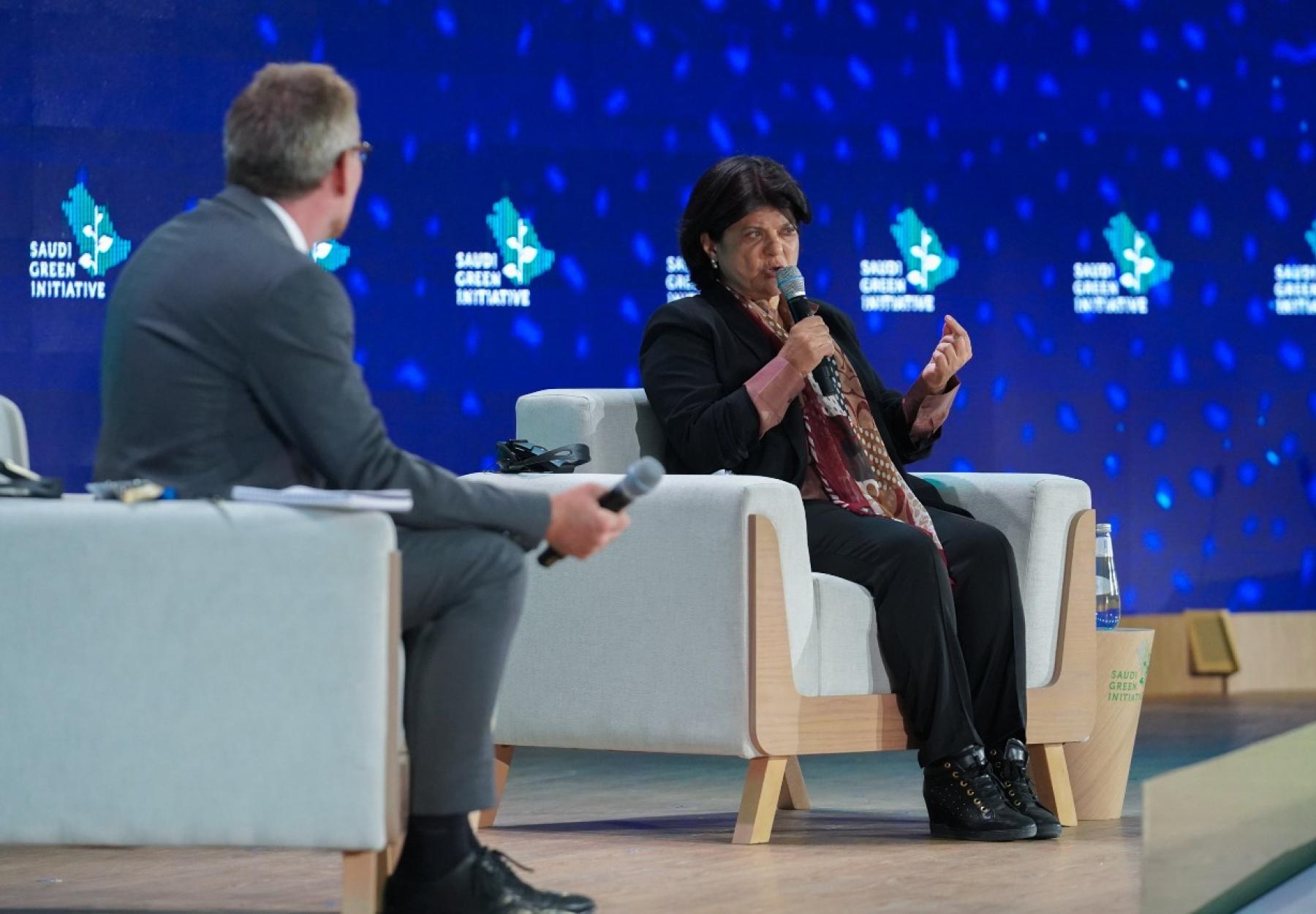 "We are a popular green movement, we have many partners, and we are happy to put our expertise and energies with the Saudi Green Initiative, and all other similar Initiatives, until our trees extend from gulf to ocean" with these words, the APN Chairman of the Board, Eng. Razan Zuayter, shared her dream of a green Arab homeland. That was during her speech to participants at the Green Youth Summit in KSA, Riyadh, on Sunday, October 24, 2021.
Zuayter started her speech by recalling the importance of protecting and planting trees, not only for their huge importance in preserving biodiversity, protecting soil, halting desertification, and combating climate change, but also in confronting hunger, poverty, and food insecurity. Especially since the Arab region is the largest importer of food in the world.
During her speech, Zuayter presented an experience of 35 years, started with the foundation of the company Sanabel Landscape Architecture & Urban Design & Planning, and the foundation of The Arab Group for the Protection of Nature, and the launch of the Green Caravan in Jordan and the Million Trees in Palestine, and the presentation of the "Arabian Tree Road Proposal", which was recently approved by the Anti-Hunger Committee in the League of Arab states.
This 20-year activity by APN has achieved significant results on the ground, with 2.6 million trees planted across Palestine and Jordan. More than 32,000 farmers benefited from the project. These farmers support more than 230,000 individuals.
"Public-private partnership is very important at all stages of the initiative, also with the academic sector, civil society and civil society" answered Eng. Zuayter when asked about her advice. She also advised those in charge of this initiative to benefit from similar experiences in the Arab world.
At the end of her speech, Eng. Zuayter called for considering the real needs of the country, setting priorities in a participatory manner, believing in the capabilities of youth and in the civilizational, cultural and linguistic heritage, in addition to paying attention to science, research, modern technology.
She also called for achieving sustainable development and social justice by paying attention to social, economic and cultural aspects along with environmental ones. Moreover, promoting the concept of volunteer work, belonging and teamwork, and finally called for confidence that any small work with perseverance can become a great work.