Image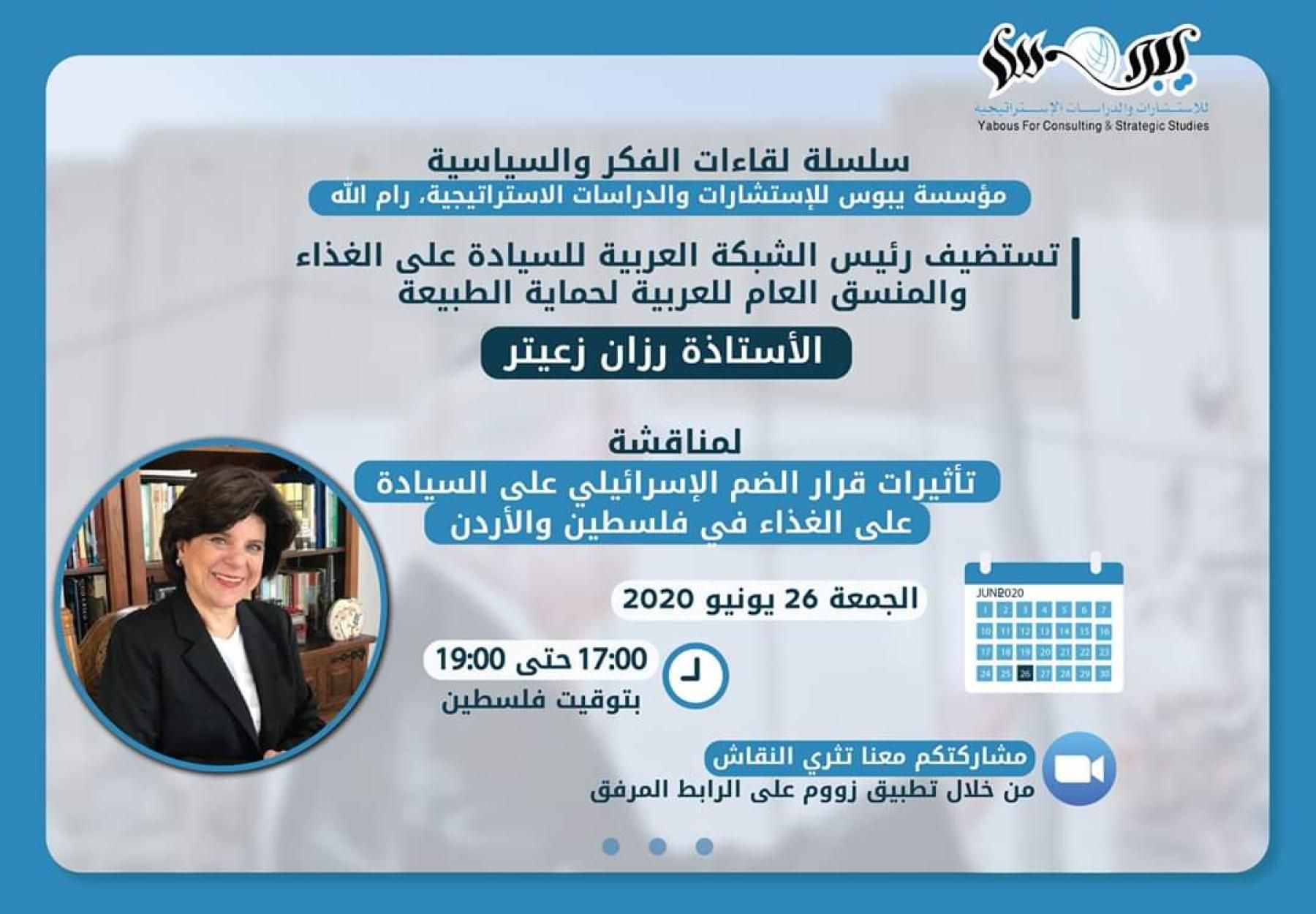 APN Chairman of the Board,  Razan Zuaiter, warned of the repercussions of Israeli's annexation plan on Palestinian and Jordanian food security during a seminar that was held by the Yabous Centre for Consulting & Strategic Studies in the West Bank.
Zuaiter explained that the Jordan Valley area is practically already controlled by the Israeli occupation. She said that only 50,000 out of 720,000 dunums are available to Palestinians. She continued to explain that 400,000 dunums are closed military areas and that settlements have appropriated 72,000 of these dunums. 
She indicated that the occupation had been planning since 1967 to annex the valley and that in 2001, Ariel Sharon, the Prime Minister at the time, explicitly declared that the valley would belong to Israel. Out of the 300,000 Palestinians who lived in the Jordan Valley, only 65,000 remain today.
She explained that among the aims of annexation is to confiscate more land, build more settlements, and tighten control over water, given that the eastern basin includes the largest groundwater basin in Palestine, which produces water at a rate of 25 million cubic meters annually.  
She pointed out that the Jordan Valley supplies the occupation with 25%  of its water needs, which represents 89%  of the valley's water.
She indicated that the annexation would jeopardize the food security of the Palestinians, subjugate them politically, and displace them, noting that it will also cut off any contact between the Palestinians and Jordan.
She noted that the valley has the most fertile land in Palestine, and that, "settlements earn nearly $10 billion annually from the areas they control in the valley. You can imagine how many hundreds of billions it will make if the annexation goes ahead, which will include all of Area C at a later stage in their plans. "
She warned that the valley from the Jordanian side, which is considered the food basket of Jordan is also at risk. The annexation will have a negative impact on the Jordanian side because Israel will surely want a larger buffer zone. 
Zuaiter recommended that there be more support for the agricultural sector so that people can hold onto their lands, so that they can have sovereignty over their lands, and have more freedom of choice in this regard.